Juxtapositions are frequently fruitful. I am not sure where this one is going, but it's pretty sweet.
I've been re-reading Bruno Latour's
Aramis
and re-watching
Parks and Recreation
. Shot in the documentary style of
The Office
, the show increasingly strikes me as a performance of what Latour describes in
Aramis
as a "relativist sociology": "It does not know that society is composed of, and that is why it goes off to learn from others, from those who are constructing society" (200).
Parks and Recreation
is a portrait of government in action.
Leslie Knope, of the Love of Local Government
.
The show, at its finest, performs the work of negotiation and compromise that, in part, shapes civic life. In re-watching these moments with
Aramis
by my side, I can't help but see Leslie through Latour's eyes:
Bureaucrats are the Einsteins of society. They make incommensurable frames of reference once again commensurable and translatable. The protocol of agreement, red-penciled and ratified, starts moving again, going from one reference body to another, tracing a path along the way, a succession of fragile catwalks that make the agreement harder to break each time, because it is now weighed down with the word of the State.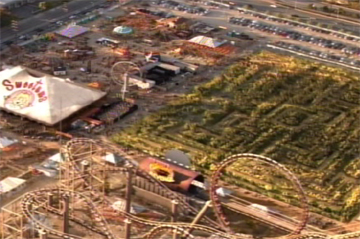 Final shot of "Harvest Festival"
Part of the reason I love the show is its tempered faith in bureaucrats. Leslie Knope, the deputy director of the Pawnee, IN, Parks Department and star of the show, is an earnest, hardworking civil servant. She does her job amidst the incommensurability of democracy, balancing the angry feedback she receives at public forums, this disinterest and/or lack of faith in government, the libertarianism of her boss, budget constraints, etc. (The episode in Season Three when Leslie and the Parks Department pull-off the Harvest Fest may provide one of the most satisfying endings of a sitcom episode ever.)
I'll grant anyone, for the moment, any joke or insult about civil servants and bureaucrats. Yes, yes. But I ask, in light of the kind of sociology that Latour proposes, what does such a view, nearly ubiquitous outside of
Parks and Recreation
, get us? How do we benefit from demeaning such work (other than getting exactly what we deserve)? How do we learn to do it better by dismissing it out of hand? In rushing to judgement, we glass over the decided-ness of what we hold near and dear. We short-circuit democracy.
I'd argue that lurking beneath such a short-circuiting contempt is what Latour calls "classical sociology":
There are norms, and thus there are deviations with respect to the norm; there are reasons, and thus there is irrationality; there is logic, thus there is illogicality; there is common sense, and thus perverted senses; there are norms, and thus there are abnormality and anomie. (199)
When I watch
Parks and Recreation
I am not watching a documentary where "the actors are
informants
," telling what they did so that we can pass judgement (although certainly this happens: I can easily imagine a classical sociological viewing of the show). For me, I am watching government in action.
Parks and Recreation
is not a show where common sense, and logic, and reason are outside measures applied to political behavior; it is, at its best, a show where common sense, logic, and reason are all the end results--the effect--of political behavior. For instance, the reasonableness of the park Leslie wants to put in the vacant lot (this is the primary arc of season one) cannot be known ahead time: its reasonable-ness, its sensical-ness, its feasible and, finally, its reality are precisely what is being worked on. To borrow from Latour, things like logic and common sense "follow; they do not lead. They are decided; they are not what makes it possible to decide" (184).
As Leslie says of her first public forum (which goes terrible and to great humorous effect): "God I loved it. I loved every minute of it!"